STEVE MORGAN'S E36 M3 EVO LIGHTWEIGHT, ESSEX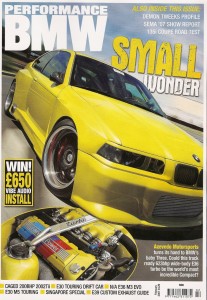 PERFORMANCE BMW MAGAZINE 2008
Click to Enlarge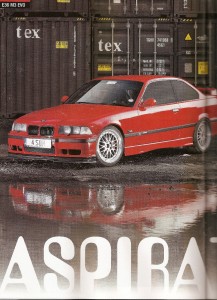 Click to Enlarge
Click to Enlarge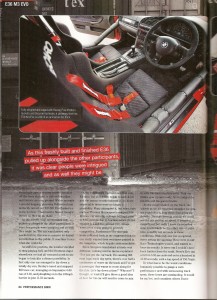 Click to Enlarge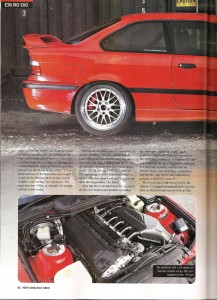 Click to Enlarge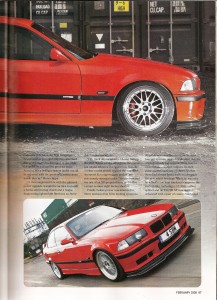 Click to Enlarge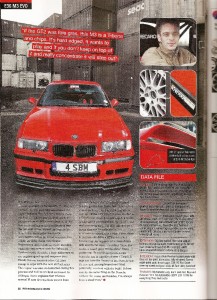 Click to Enlarge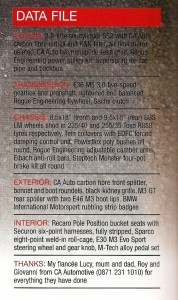 SPECIFICATION SHEET
Click to Enlarge
Whilst forced induction big power conversions have well established merits and place in the tuning market, there is just as much merit to be had from a well engineered naturally aspirated and lightweight themed car, as Steve has shown.
With advice and products from Crest Automotive Tuninghe has created a very quick, lithe and well handling raod and track tool.
This car pulled an almost unbelievable 5.5 second 0- 60 time at the recent PBMW competitive thrash at Bruntingthorpe proving ground ...IN THE WET ! And we don\\\'t mean a damp track, it was actually raining ! In the dry this car is capable of sub 4.4 seconds at least.
As Colin Chapman ( Lotus founder and engineer) once said \\\" for speed add lightness\\\", and Steve has shaved some 200 kgs from the car instantly increasing performance and handling at a stroke without having to spend a penny on aftermarket parts.
He then went on to add more chassis and engine tuning upgrades ( see \\\"Date File\\\" scan) including a Crest Automotive TuningCSL style carbon fibre air box and custom software ( worth about 30bhp) to produce the car you can now see featured in the scans of the magazine article on the right of this page.
© 2021 Site Maintenance by C2G Ltd